Potential equalizer busbars
Potential equalizer busbars are used for connecting potential-equalizing cables. Bodies and tightening screws of busbars are made of aluminium and plated with tin. Busbar supports are made of self-extinguishing polyamide. Busbars are mounted with screws.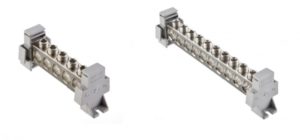 Other products in the same category:
Didn't find the product you need?
You can also search for products:
You can search with STK code, product code or product name for example.